Book Reviews
The Jewish Chronicle - Herbaceous perennials
Click here to download the article (pdf)
The South African - Snapshots with Herbert Kretzmer
Click here to download the article (pdf)
Jewish Telegraph - Herbert's three interviews with Oliver! writer Lionel's rise and dramatic fall
with Twang!
Click here to download the article (pdf)
News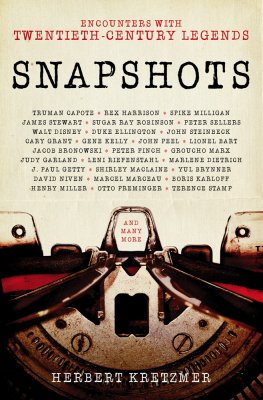 9 September 2014
Herbert Kretzmer' book Snapshots: Encounters with Twentieth Century Legends is published by  Robson Press.
In his diverse career as a journalist and wordsmith, Herbert Kretzmer has interviewed and profiled some of the twentieth century's greatest figures in theatre, literature, show business and sport. His meetings with these legends are touching, funny and devastatingly honest, providing brief but lasting snapshots of their lives.
Brought together for the first time, these portraits offer unique insights into some of the extraordinary talents and personalities who have shaped our culture. Kretzmer's intimate interviews allow us to meet such charismatic individuals as Truman Capote, Petula Clark, Billy Wilder, Cassius Clay, Anita Loos, John Osborne, Joan Plowright, Nicol Williamson, Peter Shaffer, J. P. Donleavy and many others. They are people who achieved greatness by virtue of their innovations, personalities and flair, and in these glimpses into their lives they share their hopes and opinions,
anecdotes and memories.
"As a superb lyric writer, Herbert Kretzmer knows exactly
how to employ words to maximum effect. As a raconteur he
does much the same." Hugh Whitemore
RRP: £25
You can buy t it from here or here
May 2014
Herbert Kretzmer was a guest on the Elaine Paige Show, Sky Arts.